Travelindex Reveals its 2022 TOP25 Restaurants Awards Bangkok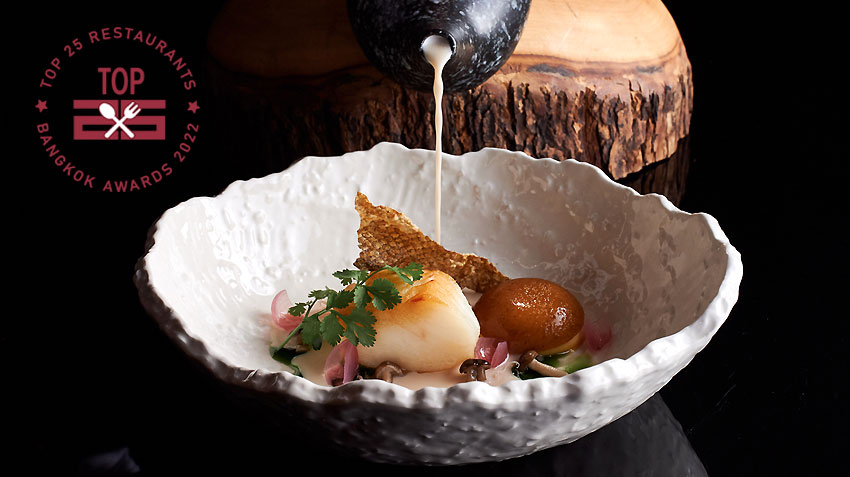 Bangkok, Thailand, July 22, 2022 / TRAVELINDEX / Today, Travelindex unveils the winners of its 2022 TOP25 Restaurants Bangkok Awards, highlighting the favourite restaurants that exemplify why the Thai capital is a favorite dining destination for gourmets and gourmands. The Best Restaurants in Bangkok ranked by Culinary Experts & the Restaurant Rating Index.
TOP25 Restaurants Bangkok has ranked Chef's Table and Mezzaluna as the city's best restaurants for five-star dining. The two restaurants share the top position with a rating of 96.2 out of 100, and both are located at lebua, the world's first luxury vertical destination. The two top restaurants are followed by Sorn, serving fine Southern Thai cuisine in an elegant setting, and Savelberg where chef Henk Savelberg delights his guests with his legendary style of cooking.
The annual list and awards are based on Travelindex's owned and patented "Restaurant Rating Index." The multi-tier rating combines the power of crowd wisdom (social media and review sites) with artificial intelligence behavioral algorithms enhanced with guidance and expertise from on-the-ground experts, making it a true and objective curation and measuring standard.
THE TOP25 RESTAURANTS IN BANGKOK – Ranked by the Restaurant Rating Index
1* – Chef's Table, French Fine Dining
1* – Mezzaluna, Experiential European
2 – Sorn, Southern Thai
3 – Savelberg, French Fine Dining
4 – Côte by Mauro Colagreco, Innovative French
5 – Aksorn by David Thompson, Traditional Thai
6 – Villa Frantzen, Nordic Cuisine
7 – R-Haan, Royal Thai
8 – Le Normandie by Alain Roux, French Fine Dining
9 – Yu Ting Yuan, Cantonese
10 – IGNIV, Progressive European
11 – Saawaan, Classic Thai
12 – Sushi Masato, Omakase
13 – Sra Bua by Kiin Kiin, Thai Molecular
14 – Gaa, Progressive Indian
15 – Le Du, Modern Thai
16 – Sühring, Modern German
17 – Blue by A. Ducasse, Classic French
18 – Ginza Sushi Ichi, Omakase
19 – Elements, Modern French
20 – Paste, Royal Thai
21 – Nahm, Modern Thai
22 – Canvas, International Cuisine
23 – Clara, Italian Fine Dining
24 – Cadence by Dan Bark, Progressive American
25 – Suan Thip, Classic Thai
Seeking a little inspiration for where to dine in Bangkok? Luckily, TOP25 Restaurants has just announced the winners of its annual TOP25 Restaurants Awards, highlighting the best restaurants in the city of angels: bit.ly/3ofNk9Y
If you do not see your favorite restaurant on this year's TOP25 Restaurants list, please click here for its submission.
About TOP25 Restaurants by Travelindex
Travelindex is a content-driven ecosystem for the travel and tourism sectors. Our media group operates an open and free digital platform, connecting directly to millions of people worldwide, providing inspiration and advice for discerning travelers. The TOP25 Restaurants guides leverage the first independent rating system based on artificial intelligence combined with human expertise, to curate a premium selection of restaurants and available dining choices, wherever you are. We bring together the best of all cuisines with every establishment chosen first and foremost for the quality of cooking and service. The annual TOP25 Awards showcase the most outstanding restaurants and the ultimate collection of dining venues.